River2Sea Nest Raider
The River2Sea Nest Raider is one of the hottest bed fishing baits on the market. It's unique body design resembles a nest raiding salamander or lizard that highly aggitates defensive bedding fish. Simply work the bait into the middle of the bed and twitch to make the bass angry.
Learn More About The Nest Raider: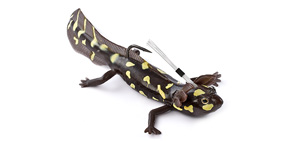 KEVIN'S BUYING TIPS:
I rarely go bed fishing without a Nest Raider tied on. There is something about a big reptile on a nest that drives bass nuts. Buy the 'black w/ yellow spots' and NOT green pumpkin.
River2Sea Nest Raider
Available at these trusted retailers: