Daiwa Megaforce 100TSH Reviews
The Daiwa Megaforce 100TSH Baitcasting Reel is an inexpensive reel with many innovative features, such as Daiwa's patented Twitchin' Bar, which when pressed, will revolve the spool and take up slack in your line. It is a very fast reel with a gear ratio of 7.1:1 and is known for its affordable price.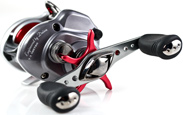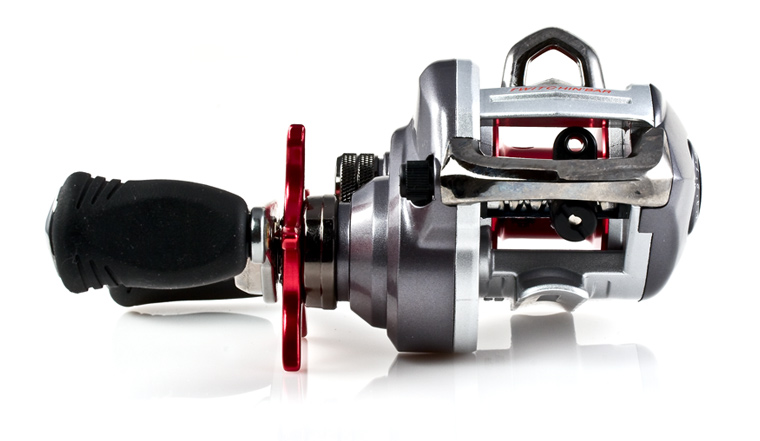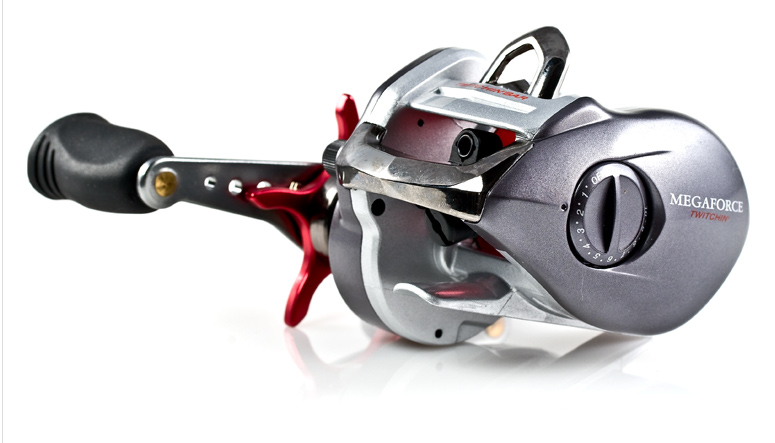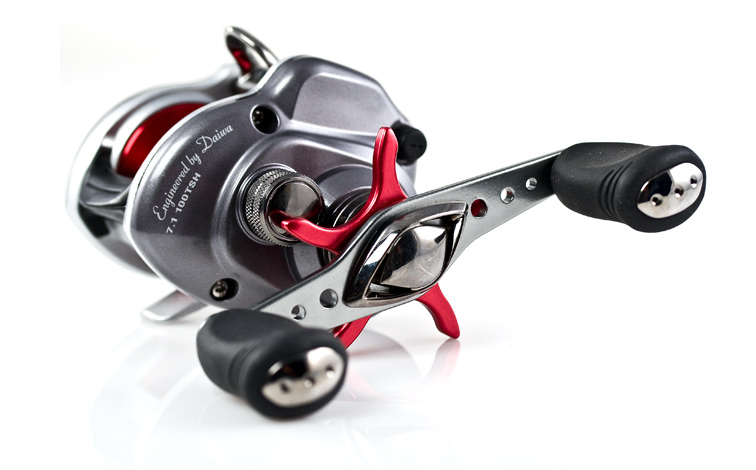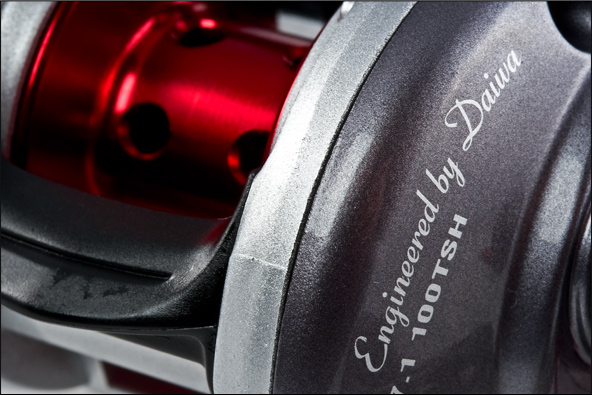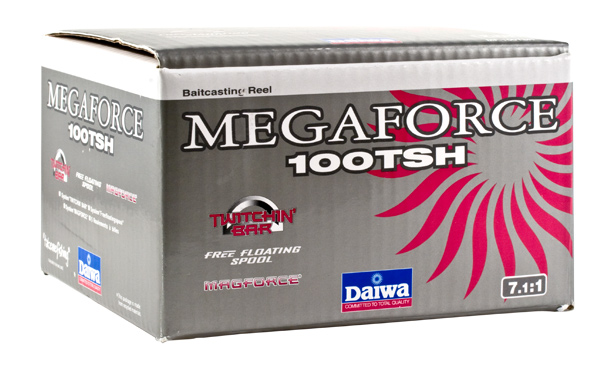 March 4, 2010
I had this reel for 2 years now and about halfway though the summer it stoped letting me adjust the drag. It is just stuck on a high level. I think it's a good reel for the first time baitcast user, but once you get the hang of it move on to better gear.
March 1, 2010
This reel was awesome for about the first 4 weeks.The twichin bar broke and would get stuck as i was reeling.I don't recommend this reel instead maybe the DAIWA MAGFORCE-Z EXC-100H EXCELER BAITCAST REEL .It is the same thing but without the twichinbar.
December 8, 2009
I received this reel as a gift for Christmas, and really liked it right out of the box. I never used the Twitchin' Bar, but I could see some people using it in certain situations...just not me.

Everything was fine for the first 6 months or so, but then I had the same problem as some of the previous members. The thumb-bar would only go down about halfway, and then a turn of the handle would only grind the gears. I never opened it up, but it must have plastic gears because after this happened to me several times, it would happen easier and easier each time...leading me to believe that the gear teeth were getting worn down.

I traded it in at BPS for a BPS Extreme reel in a 7.1:1 ratio for my finesse fishing. I love that reel for the price...in fact, on sale, it was about $10 cheaper. I've since purchased a Revo as well because of the "durabrass gears"...hoping I won't have the same problems.

Its a very smooth casting reel....but I would highly recommend a different brand.
October 12, 2009
Just purchased this reel. Only problem I have with it is that the instructions say do not use the twitching bar to move the bait. It's sole purpose is to take up slack in the line. That being the case I find it unnecessary since the handle turns smoothly and takes up all the slack needed. I thought the purpose was to help people like me who need help to slow down.
August 8, 2009
This reel was awesome for about two weeks, I went 4 for 4 with it landing one hawg 21"+ 5lbs + and three 16"+ bass, twitching bar was awesome until it broke. It got stuck and was never the same, returned it for a Johnny Morris, we'll see how that goes, miss the twitching bar.......If you're a beginner this is a good reel but if you want something that lasts buy something else like, I still feel its a good reel.....
May 2, 2009
I've only used this at a fishing convention, the twitching bar seemed clever. I don't think its necessary , but clever.
May 1, 2009
I have had mine for 8-9 months now. Problem free but it is just one of the many in my arsenal. dont use the twitchin bar much but have and like the feature.

Jerry Martin
April 29, 2009
I got one of these reels and have loved using it. It casts light baits a mile while i never thought I would use the twitching bar it comes in handy .


Jim
April 29, 2009
I have had this reel for about 2 years now. I love it. Its good for finesse fishing worms, etc. Also, if you want to you can throw braid on it and the gear ratio of 7.1:1 gets the fish out of the weeds in seconds. I have yet to loose a fish in the weeds on this reel. Also, I may not use the twitchin bar all the time but when you are in tight situations it comes in very handy. Overall, its the best baitcaster I have in relation to durability and casting. It cast far and smooth. I have other more expensive reels, but this is the best bang for the buck.
April 28, 2009
The reel itself is okay, but I really think that the twitching bar is a non-factor. I didn't use it that much.
April 28, 2009
I have three of these reels and unlike the above post I love every one of them. They are smooth, cast a mile and I have had them for about a year with no issues whatsoever! As a matter of fact I have not even cleaned or lubed them yet!

As to the twichin bar, it's a metter of getting used to them, I like them for finesse fishing and worming. I can have my reel hand in front of the reel to help with the hookset!

Different strokes for different folks I guess, I love mine!!!!!
April 27, 2009
Do not waste your money on this reel. I had it for 2 months and it was working beautifully. The only problem was that if I didn't push the button all the way down it would grind the gears really bad. That was only rare though. Then all of a sudden in the middle of a tournament, my reel starts to show resistence when I reeled it and in a period of 3 turns it would progressively get harder to reel than it would fix itself and be easy for half a turn and start all over. Eventually, it started to click really loudly at the end of that three turns. Than the respooling thing that spreads out the line started to fail and it wouldn't respool evenly or at all. I took it apart cleaned it up and put it back together. Everything appeared to be fixed but then three days later it started to act up. When I would reel, the Twitchin' Bar started to go down automatically without me pushing it and than it would snap back up and make a really loud click. Long story short, I returned the reel and used that money to buy the Bass Pro Shops Pro Qualifier that isn't low-profile, even though it still is. For 20 dollars more, I got the Pro Qualifier on sale at BPS for 80 bucks and it is the best reel I have ever owned.

For those of you who do not heed my warning, and would like to try the reel and the Twitchin' Bar for yourself, go ahead. After the initial excitement about the Twitchin' Bar died out, I didn't use it. It was dead weight that got small backlashes caught up on the bar which then turned to HUGE backlashes.

Never purchase this reel. It will let you down. I would say that it's a 20 dollar reel that they slapped a new, bulky feature on and charged you 60 for.
Want to share your review?
Only members of BassFishin.Com may contribute tackle reviews. Registration is quick and free. Get started and become a member today!
Or Login if you're already a member.