Spro BBZ-1 Swimbait Reviews
Spro's 8-inch hard swimbait is jointed and features a soft-plastic tail. Designed by California's big bass expert, Bill Siemantel, the BBZ-1 is capable of covering all depth zones from top to bottom with their line of floaters, mid-range, and fast-sinking baits. Also features 2X Gamakatsu trebles and heavy-duty split-rings.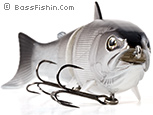 July 11, 2009
i like the rainbow color it will catch bass specially in small ponds you will be surprise when they hit it
April 22, 2009
As Far as swim baits goes... I had a company send me 10 different swim baits. I gave it the Silver medal.

Tips: TAKE YOUR TIME and know what you are going after, BIG or small bass. IF and I mean IF you have a lake that has bass 6lbs+ and you work it to the days current weather/year conditions... you will catch one.

Mine are free... would I pay current online price for one? Probably not. Many other options out there that produce just as much for 1/10 the price.
February 17, 2009
Well this bait is the right size nad has excellent hooks. IT attempts to minimize the fragility of more sucessful baits like the huddleston deluxe. The pictured color is sucessful bait colr in multiple bait brands.

I've decide to purchace Huddleston products for swimbaits or Storm products.
January 6, 2009
When this product hit the market I was not impressed. The bait appeared to be a cheap imitation of a similar product. All I saw was large joint sections, fins that would tear easily and often fall off all together, and paint that would peel. However, that was the first run. After Spro worked the kinks out in their manufacturing this bait became quite solid. As I began fishing the bait I was very suprised to find that the fish didn't seem to care about the large joints or unusual body wobble. Instead, they saw an easy meal and began capitalizing. The Spro BBZ has become one of my least expensive, most reliable swimbaits for getting bit day in and day out.
September 29, 2008
For the Money make sure you by extra tails. It will fling off. A drop of super glue solves the problem with that. I used the floater as a wake bait i got all kinds of attacks on the bait. My biggest problem with the bait is you do have to buy all 3 versions. If want to beable to float, Slow Fall, Fast Fall. Knowing what i know now i would have spent the cash buying the tru-tungston swimbait instead. Which i didinstead of buying 2 more BBZ-1. Then i could have tooken advantage of 3 baits in one.
Want to share your review?
Only members of BassFishin.Com may contribute tackle reviews. Registration is quick and free. Get started and become a member today!
Or Login if you're already a member.