Basstrix Bait Fry
Basstrix designed this killer hollow-body drop shot bait to resemble a bait fry in both shape and color. Because of its hollow design, the bait remains light enough to use on drop shot rigs and light enough to have very responsive action when twitching the rod tip. The Bait Fry comes in two sizes, 3" and 3.5", and a wide array of color patterns. A great alternative to traditional drop shot worms that don't resemble baitfish.
Learn More About The Bait Fry: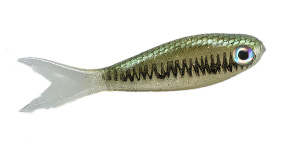 KEVIN'S BUYING TIPS:
The Bait Fry is one of my favorites. Perfect for drop shotting. Has a profile that tempts fish into biting and the color patterns and detail are top notch. For colors, I like 'Shad', 'Ayu' and 'Alewife'.
Basstrix Bait Fry
Available at this trusted retailer: