Berkley Gulp! Alive Spray
Everyone knows Berkley's Laboratory is at the forefront of researching artificial feeding stimuli of largemouth and smallmouth bass. Berkley's latest generation of scent attractant, called Gulp! Alive, is now offered in a convenient spray bottle for quick application to any lure. Offered in numerous flavors and scents, such as crawdad, garlic, nightcrawler and shad. This attractant leaves a trail of scent behind the lure which bass can follow directly to your bait.
Learn More About The Gulp! Alive Spray: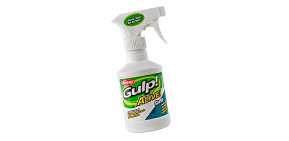 KEVIN'S BUYING TIPS:
While scent sprays won't take you from weekend Joe to tournament pro, having tried most scents on the market, I'd say this one is one of the two best on the market.
Berkley Gulp! Alive Spray
Available at these trusted retailers: