Jackall Superpin Tail Shad
Jackall created the ultra-realistic Superpin Tail Shad specifically for finesse applications like drop shotting. Kota Kiriyama used the Jackall Superpin Tail Shad to win a big Bassmaster event on Lake Erie in 2008. At 4" in length, the slightest shake of the rod tip makes this bait vibrate in a lifelike and tempting manner.
Learn More About The Superpin Tail Shad: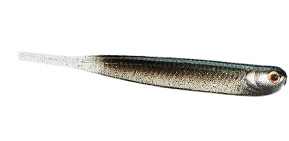 KEVIN'S BUYING TIPS:
The detail of these baits is astounding. I am new to these and have only fished them a couple times, but already I am impressed. The realism is unmatched. You'll see.
Jackall Superpin Tail Shad
Available at this trusted retailer: