Osprey Winged Talon 6"
This 6" soft swimbait is designed for line thru rigging with a single treble hook. Osprey makes some of the most sought after swimbaits and the Winged Talon is a popular variation of Osprey's famous Inline Tournament Talon. The notable difference is the thicker wings and flattened top.
Learn More About The Winged Talon 6":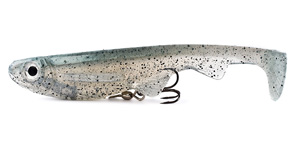 KEVIN'S BUYING TIPS:
The Osprey Winged Talon is one of my favorite swimbaits. It has really good hook-up and landing percentages because of the line-thru design and has a great 'subtle' action.
Osprey Winged Talon
Available at this trusted retailer: