Reaction Strike Tube Jr.
Unique for its many ultra-realistic color patterns, the Reaction Strike Tube Jr. is one of the highest quality tube baits on the market. Designed with a hollow body, it can be rigged Texas-style or with a jighead. A favorite in spring when bed fishing.
Learn More About The Tube Jr.: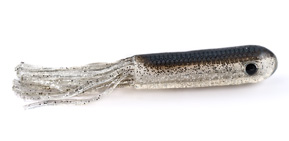 KEVIN'S BUYING TIPS:
I like the color patterns of the Hollow Tube Jr. They are great colors for bed fishing. Check out the 'Tennessee Shad', 'Chartreuse Shiner' and 'Trout'.
Hollow Tube Jr.
Available at this trusted retailer: