SPRO BBZ-1 Swimbait
Designed by renowned big bass guru Bill Siemantel, the BBZ-1 Swimbait is an 8-inch jointed swimbait designed to be fished in all water columns from shallow to deep. The BBZ-1 comes in three models, a floating, slow-sink and fast-sink versions. They are equipped with ultra-sharp 2X Strong 1/0 treble hooks and feature a soft plastic tail section.
Learn More About The BBZ-1 Swimbait: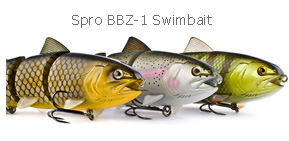 KEVIN'S BUYING TIPS:
These baits come in floating, slow-sink and fast-sink. I really like the floating versions. One hot technique is deadsticking a big floating swimbait in wind and waves. I like 'Silver Fish' color out East.
Spro BBZ-1 Swimbait
Available at these trusted retailers: