Strike King Shadalicious
The Strike King Shadalicious is the company's first debut into the hyper active hollow paddletail swimbait realm. Offered in three sizes (4.5", 5.5" and 6.5"), these soft hollow swimbaits can be rigged on an open jighead or with a weighted texas rigged hook. This lure helped Kevin VanDam win an event on the Alabama River.
Learn More About The Shadalicious: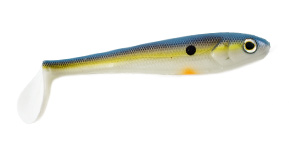 KEVIN'S BUYING TIPS:
While it isn't my favorite paddletail swimbait, it certainly is soft enough to be a solid performer.
Strike King Shadalicious
Available at these trusted retailers: