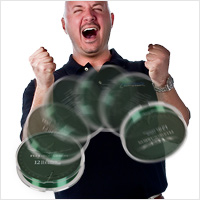 Join Me In Standing Up Against Line Manufacturers!
Published May 17, 2010 by
Kevin Scarselli
Does this make any sense to you?
When you buy fishing line… it comes on a spool.
But a recent phenomena in the fishing line world has been selling line on spools with "cut-outs" or "notches" in them.
I HATE THESE NOTCHES!
It is time for us to stand up against the fishing line companies that sell line on these notched spools. DROP THE NOTCH!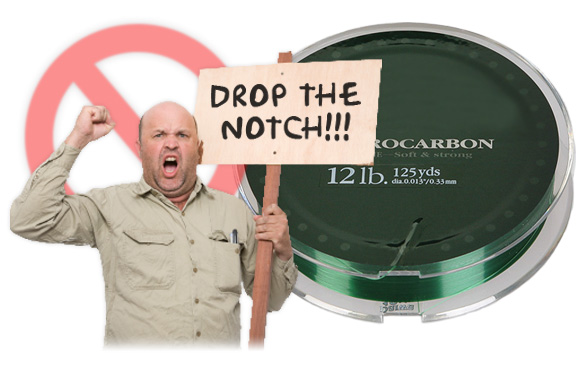 Notches Are The Worst!
These notches are your worst enemy when you go to spool new line onto a spinning reel.
Since you want to pull line off the side of the line spool when spooling a spinning reel, these notches constantly snag the line coming off the side of the spool and flip the spool over.
What should be such a smooth and easy task, is now a massively frustrating and arduous process.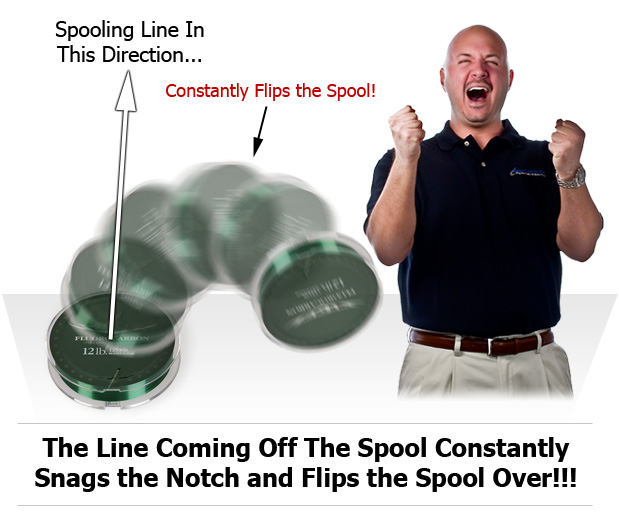 Why do line companies put these notches in their spools?
Good question!
Personally, I have no idea. I can think of a few possible reasons, but none are even remotely a credible reason to warrant use of notches (spool can be stood upright on table without rolling; line can be taped to side of spool, etc).
How many line companies use notched spools?
A lot! (unfortunately).
We did some research online, examining photos of various brand's spools to see how many line companies used notched spools. You will be shocked to hear that about half of all line companies put notches their spools!
Notches are highly prevalent in the smaller spools sizes (ie. 200 yd spools), but are, lucky for us, less frequent in bulk spool sizes (ie. 3000 yd spools).
Which Fishing Line Companies Use Notched Spools?
We've assembled a list of known "Notched-Spool Perpetrators". These line companies use notched spools: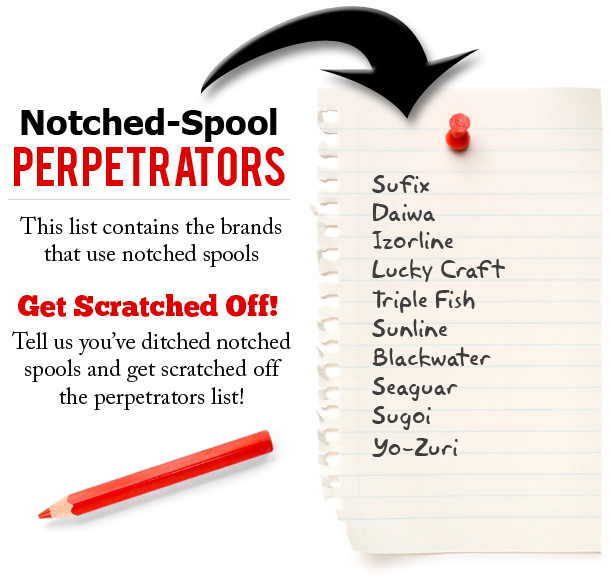 If your company is on this list and you "drop the notch", let us know and we will happily scratch you off the Notched-Spool Perpetrators list.
See The Notched Spools For Yourself
Here are links to photos of various brand spools on the Notched-Spool Perpetrators list, so you can see the notches.
Daiwa: Steez, Samurai, Megaforce Distance, Megaforce Tough, etc.
Damiki: Zool Polyamide, etc.
Izorline: Premium Spectra, XXX Super Co-Polymer, Platinum, etc.
Lucky Craft: Iron Athlete Mono, Iron Athlete Braid, etc.
Sufix: 100% Fluorocarbon, Performance Stretch Braid, Deep Crankin Line, Elite, Siege. Performance Braid, etc.
Sunline: FC Sniper, Shooter Defier, Shooter, FC Biwako Guide Special, Super Natural, Shooter Metan, etc.
Seaguar: Tatsu, AbrazX, InvizX, Red Label, etc.
Blackwater/Toray: Bawo Finesse Braid, Solaroam Upgrade Fluorocarbon, Bawo Polyamide Plus, Bawo Premium Plus, Bawo Finesse, etc.
Triple Fish: X-Rated, etc.
Yamamoto/Sugoi: Sugoi Fluorocarbon, etc.
Yo-Zuri: Hybrid, etc.
Which Companies DO NOT Use Notched Spools?
From our observations, the following fishing line companies do not use notched spools.
Berkley
Gamma
Hi-SEAS
Lake Fork Fishing
Maxima
McCoy
P-Line
Power Pro
Silver Thread
Spiderwire
Stren
Vicious
Cajun Line
If anyone spots a notched spool from these companies, let us know so we can add them to the Notched-Spool Perpetrators list.
What You Can Do To Help
It is very important that line companies hear us.
If you share the same sentiments as we do about notched spools, then we ask that you help bring attention to this blog entry. The more attention this gets, the more pressure it will put on line companies to "drop the notch".
You can link to this page via this URL: http://www.bassfishin.com/blog/fishing-line-spools/
So spread the word and hopefully we'll be able to spool our spinning reels quickly and easily soon again!