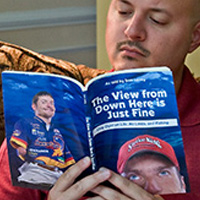 The Biography of Clay Dyer: Life With No Limbs
Published May 25, 2010 by
Kevin Scarselli
Watch this short awe-inspiring video right now…
A video would have displayed for you right here, but you will first need to
upgrade your Flash Player
to
9.0.2
or newer. Preferrably the latest version they offer.
This Amazing Man Will Forever Change Your Outlook On Life
This is Clay Dyer. He is a professional bass fisherman on the FLW Tour.
Clay was born without limbs and has overcome countless obstacles to become not only an incredible angler, but a true hero in all walks of life.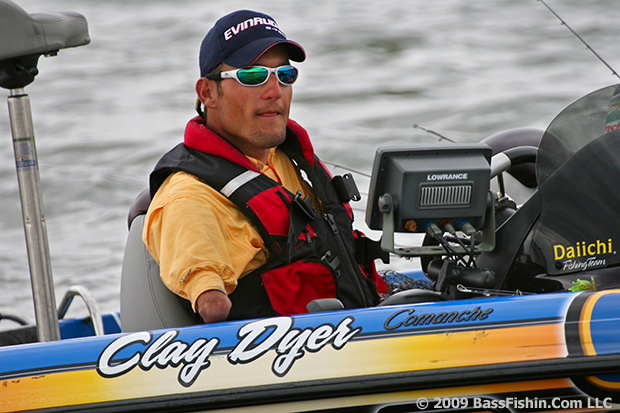 I had first learned about Clay maybe 6 or 7 years ago after watching a short segment about him on the old ESPN show, BassCenter. The short documentary was very inspirational and moving. Since then I've kept Clay in my mind. His story and the life he lives has been a model for faith and success not only for me, but for many others as well, I'm sure.
I recently purchased the biography of Clay Dyer… titled, "The View From Down Here Is Just Fine: Clay Dyer On Life, No Limbs and Fishing".
It is the phenomenal story of Clay's life from birth to present day as a professional angler.
How Clay's Story Will Move Your Life In A Different Direction
I can honestly say that Clay has forever changed how I will approach obstacles in life and how I react to events that arise in my life.
There is a quote in the book by a family friend that says this about Clay….
"…when he was created, he may have missed the arms and legs line because he was busy going through the guts and backbone line several times."
This book teaches what it means to be tough against adversity, and to come out the other side joyful and full of faith.
This is a feel good book!
You can't help but feel a close connection with Clay, as you quickly realize he is a kindred spirit who shares the same passions and desires for our beloved sport.
I also couldn't help but notice Clay was a lot like me in many ways. It told of how he would always be day dreaming about fishing and bugging his parents about fishing tackle and new rods and reels. And in the back of the book, there are photos of Clay, when he was maybe 15 or 16, standing next to his idols, like Kevin VanDam, Jimmy Houston and George Cochran.
I have the same exact photos of me with those guys when I was young too. There would be those "meet and greet" nights before the big tournaments where you could get photos and talk with the pro's. You can't miss that era's high hats and embroidery. Too bad Clay didn't grow up in my neighborhood.. it would have been cool to have him as a friend.
But the similarity between us veers when it comes to the aforementioned guts and backbone… Clay is in a class of his own.
One powerful theme of the book for me was the "If I can, you can…" aspect. Clay loves being an example for others for what is possible if you devote yourself to success.
I believe Clay is living out God's plan, and I believe Clay's strength and fearlessness will have massive impact in the decisions that will come in my life.
My Very Important Wall of Influence
About 5 years ago, I printed out a photo of a man who had a tremendous impact on my life and taped it to the wall of my office. Under his photo, I put the one word that best represented the quality/trait he taught me.
About a year later, I realized there were others that deserved to be on my wall. Every 8-9 months usually, I found myself taping another person's photo on my office wall. After 5 years, there are now 9 total people on my wall. These aren't just anyone either, this wall is reserved for only those that had the most influence on my life and success. Making my wall is no easy task. Not to mention, I have no intention of ever taking anyone's photo off, for as long as I live.
I look at the photos on this wall nearly everyday. When I have major decisions in both life and work, I look at the faces on this wall for help and answers. Along the way, each has given me knowledge to make wise decisions, strengthen my faith, and to live a life I can be proud of.
After finishing this book, Clay Dyer became the 9th addition to my wall.
The word I chose to put under his photo was "FEARLESS". While I could have certainly used the word "DETERMINATION", "PASSION", or the like, I felt "FEARLESS" was what Clay represented to me the most.
He is a guy that won't take no for an answer. He is fearless in his pursuit to succeed at anything he wishes to do.
In thanks to Clay, I too choose to be fearless. Fearless in adversity, fearless in life, fearless in faith.
If he can, so can I.
Thank you Clay. May God bless you with continued spirits and success, and may your fearlessness be seen by the world!
If You'd Like To Purchase Clay's Biography: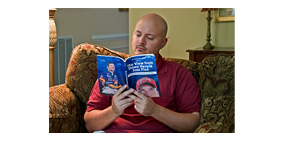 An Impactful Story On Life
Clay Dyer's story changed my outlook on life and I overwhelmingly recommend this book to anglers and non-anglers alike.
Clay Dyer's Biography
Available at this trusted retailer: