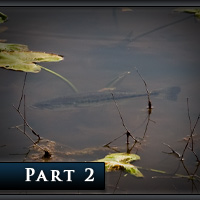 The Definitive Guide to Bed Fishing – Part II
Published April 12, 2010 by
Kevin Scarselli
Part 2: Tricks For Seeing Underwater
Part 2: Tricks For Seeing Underwater
Most Important: Quality Polarized Sunglasses
Your sunglasses must be polarized.
Without polarization, you stand no chance.
Cheap Sunglasses VS. Expensive Sunglasses: Does It Matter?
Most bass fishermen use polarized sunglasses that cost $15 to $20 bucks.
How does the bass/bed spotting performance of cheap $20 sunglasses compare to a more expensive $100+ pair?
We did an experiment to test this…
We tested the differences between three different sunglasses, each with a different MSRP and lens color…
Costa Del Mar Zane 580 Silver Lens (Which is actually a copper lens) –

MSRP $239

Wiley X Jake Bronze Lens –

MSRP $139

$15 Off-Brand Polarized Sunglasses with Gray Lens –

MSRP $15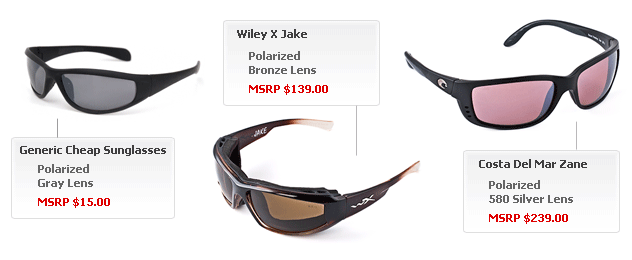 We were very lucky to have clear conditions with a high sun. Many bass were up shallow sunning which gave great testing conditions.
The Test
We pulled up to numerous spots where bass were sunning in the shallows.
Our goal was to compare the effectiveness of each pair of sunglasses in terms of fish spotting. We had sunglasses that cost $239, $139 and $15, each with a different lens color.
The Results
We were able to identify a clear "winner" in terms of performance…
The Costa Del Mar Zane 580 Silver Lens showed marginal to significant performance improvement over both the Wiley X Jake Bronze lenses and the cheap $15 gray sunglasses.
However, many fishermen will be surprised to hear that there were certain instances where the cheap $15 pair with gray lenses outperformed both of the higher-end models.
If a fish was facing towards or away from us, and the lake floor was dark (in this case had a redish/brownish hue), the cheap $15 grey lenses provided greater contrast and separation of the fish from its immediate surroundings.

Now just to be clear… this was a very specific set of circumstances. And just know, this was about the ONLY set of circumstances that showed the cheap $15 sunglasses to perform better than the two higher-priced models.
In all other tests, we quickly realized the cheap $15 sunglasses would not be able to perform on par with the two higher-priced models.
Costa 580 Silver Lens VS. Wiley X Bronze Lens
It is worth repeating here that Costa's "Silver Lens" is actually a copper-tinted lens. Why they chose to call it a "Silver Lens".. I don't know.
Here's the deal…
The Costa 580 Silver Lens performed significantly better than the cheap $15 sunglasses in terms of fish spotting and performed moderately better than the Wiley X Bronze Lenses.
With the Costa 580 Silver Lenses, we found that bass "stood out" more amongst the lake floor and the green of the fish was amplified greater than the other lenses in the test. When you are scanning for bass, the green color of the fish can often be the thing that alerts you to a fish's presence, so amplifying greens is very important.
The Wiley X Bronze performed well, but lacked the contrast, clarity and sharpness of the Costa 580 Silver Lens.
An important thing to note about the Wiley X lens is that it is NOT a glass lens. It is polycarbonate. They make their lenses polycarbonate so they are unbreakable and shatterproof. Which is a good thing, but at the expense of ultimate clarity and sharpness.
You see, in terms of optics, glass is always superior to non-glass (ie. polycarbonate). Glass allows greater transmission of light through the lens, meaning greater resolution.
Take a look at the comparison photos below and notice the differences in sharpness. While the color of the lens plays a role in contrast, we believe the use of glass in the Costa 580's is precisely what gives that particular lens an advantage in terms of sharpness.
Look particularly at the outline of the rock below. You will notice an increasing amount of sharpness as you move from the cheap $15 sunglasses, to Wiley X, and to the Costa 580 Silver Lens.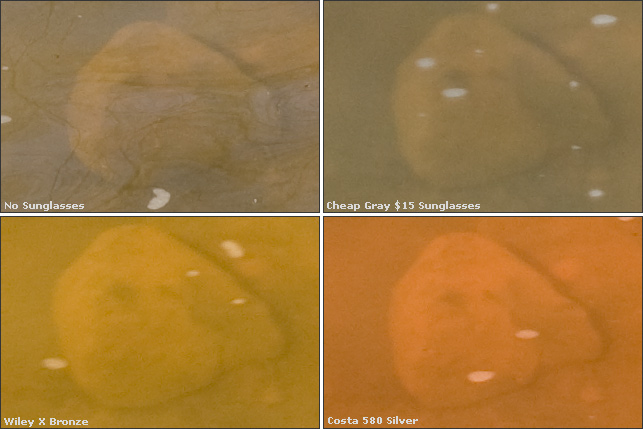 Very Important Aspect: Reach
We found the Costa 580's to have the best "reach"… giving greater underwater clarity at further distances.
Bottom Line: Costa 580 Silver Lens
In terms of performance and comfort, we like the Costa Del Mar 580 Silver Lens. But know the Wiley X Jake's performed well too for about $100 less.
While price is always a significant factor to the worthiness of a product's purchase, we feel the $239 price tag on the Costa 580 Silver Lens was worth its investment in terms of the clarity and resolution they provide a bed fisherman.
Which Lens Color Is Best For Bed Fishing
Everyone will tell you that the ambers, yellows and coppers are best for bed fishing. And in terms of versatility during the bed fishing season, they are.
But know this…
There are instances when standard gray lenses are best.
Having a selection of sunglasses with different colored lenses to cycle back and forth with would prove helpful in tournament situations where big money is on the line, and why we often hear this from such anglers as Kevin VanDam.
Gray lenses are known to reduce maximum amount of glare (more so than colored lenses). So if you are faced with a lot of glare that is seriously prohibiting your visibility, gray lenses may be a better choice.
However, in anything less than a major bass tournament, we would feel perfectly comfortable sticking with copper, amber or yellow lenses throughout the entire day.
Glass Lenses Are Superior
All things equally considered, glass lenses should always outperform non-glass lenses. Glass allows more light to pass through the lens.
And not all glass is created equal. Some glass lenses will allow, for instance, 97.7% light transmission, while other glass lenses will allow 98.7% light transmission.
Sound insignificant? It is not.
We have thoroughly tested two lenses with 1 percentage point difference in light transmission. The lens with 1 percentage point higher transmission was clearer in almost every instance.
Just know there is real science and art to good optics. And good optics aren't cheap.
Using The Sun To Your Advantage
When searching for beds and bass, it is much easier to have the sun to your back.
Having the sun in front of you will produce a strong glare on the water in front of you, making it very difficult to see underwater.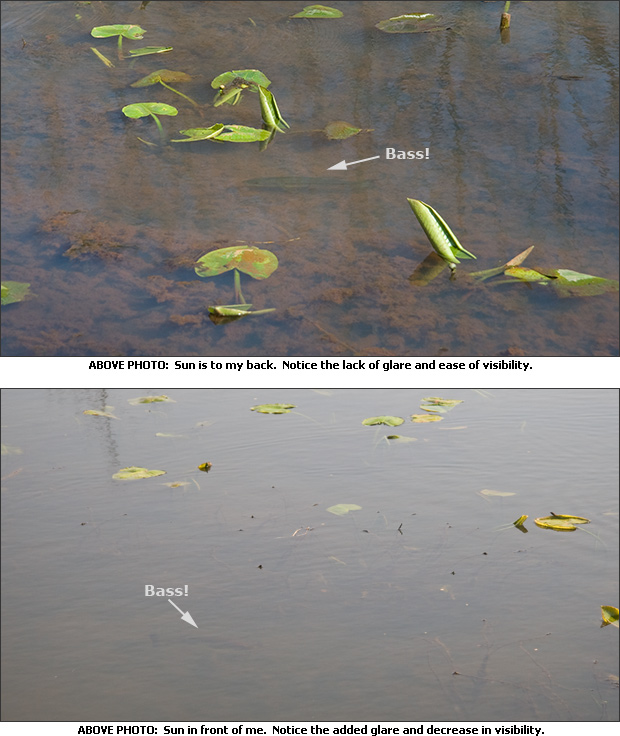 Some top bed fishermen will focus on areas of the lake where they know the sun will NOT be positioned in front of them.
Luckily, the sun is more in the South this time of year and the biggest concentrations of beds are on the Northern shorelines to start with. So there are usually numerous options available for bed fishing where the sun is to your back.
High Banks With Lots of Trees
Shorelines with lots of tall trees can help reduce glare and make it easier to scan for bass and beds.
If you are having a particularly difficult time spotting beds because of glare, try coves and shallow shorelines that have tall trees. The trees will reflect in the water and reduce a lot of noise from glare.
Awesome Tip From Kevin VanDam
I learned this tip from Kevin VanDam, and the tip has been priceless…
You can alter the amount of glare seen on the water by tilting your head sideways to the left or right.
The first time I tried this I was amazed at the difference it made. And if you understand the physics of polarization, it all makes sense why this works.
Most of the time tilting your head to one side will not show any improvement. But often it will. So it is a useful trick to know and one that WILL put more fish in the boat.
Dealing With Pollen On The Water's Surface
In the Spring, pollen on the water's surface becomes a huge problem for bed fishermen. It falls off the trees and blankets the surface, making it virtually impossible to see underneath the yellow debris.
Sometimes you will find bass on beds but cannot see it well enough from a fishable distance because of pollen. There is a way to fix this though…
A Secret For Eliminating Surface Pollen…
Very few pro anglers were aware of this secret until last year, when B.A.S.S. photographers snapped photos of certain anglers using a secret "trick" for combating surface pollen. An article appeared on Bassmaster.Com about it and since the cat is out of the bag so to speak, I'll share the secret trick…
That trick is using Super Soaker-like water guns.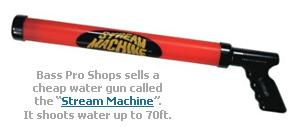 You fill a big water gun with either a mixture of dish soap and water, or vegetable oils or even some fish scents and spray it over top the pollen on the water. The sprayed mixture will dissipate all the pollen and make the surface perfectly clear for easy underwater visibility.
It's quite remarkable how well it works.
I have used a mixture of water and dish soap with great results. And I have been out with pro's that used other mixed concoctions that worked similarly.
The bigger the water gun, the better. You get more reach with less effort. A couple sprays will clear an entire 10 ft x 10 ft area.
In Part 3 of The Definitive Guide to Bed Fishing, you will uncover the secrets to scanning and spotting bass and beds…
Part 2: Tricks For Seeing Underwater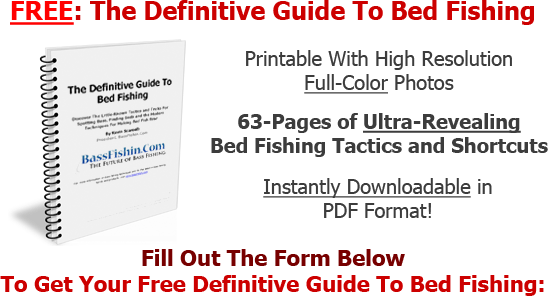 Products Mentioned In This Guide: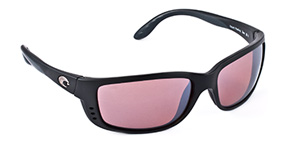 KEVIN'S BUYING TIPS:
The Silver Mirror Lens is phenomenal for bed fishing. Though it is called "Silver", it is actually a copper lens that provides enhanced contrast and sharpness. The Zane's are very comfortable.
Costa Del Mar 580 Lens (Zane)
Available at these trusted retailers: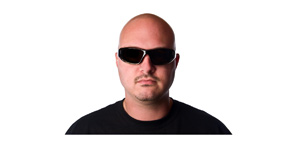 KEVIN'S BUYING TIPS:
I am a HUGE fan of the foam gasket inserts! I have problems with eye irritation and dryness after running around in the boat at high speeds all day. These eliminate that greatly! They have been a blessing to me.
Wiley X Jake Sunglasses
Available at these trusted retailers: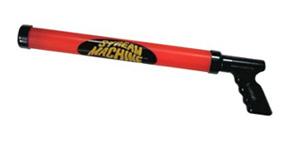 KEVIN'S BUYING TIPS:
I have not used this gun because I use one I got from a neighbor. But apparently it squirts water up to 70 feet and looks to be ideally shaped for storage in a rod locker or sitting on the deck of your boat.
Stream Machine Water Gun
Available at this trusted retailer:


Part 2: Tricks For Seeing Underwater