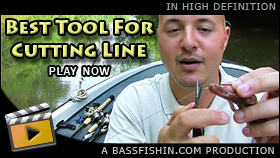 PRODUCTS FEATURED IN THIS VIDEO...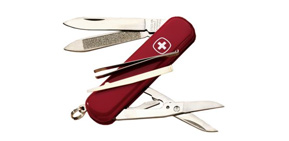 KEVIN'S BUYING TIPS:
I've been using this exact Swiss Army pocket knife forever. I use some that are over 10 years old and still cut line great. Use the scissors to cut the line and put it in your pocket when you go fishing.
Wenger Esquire Pocket Knife
Available at this trusted retailer:


Best Fishing Line Cutter
While any kind of fishing line cutter will work for mono or fluorocarbon, braided lines give most cutters like scissors, clippers and pliers some trouble. Kevin shares his secret tool that cuts all fishing lines easily and quickly in one swipe. He promises you won't find a better cutter on the market.
Having Difficulty Viewing the Videos?
Let me give you guys a tip on what works best for cutting all kinds of fishing line. What I've found works best is a standard Swiss Army pocket knife. It is much better than other fishing line cutters. This thing really works good for cutting fluorocarbon, monofilament and especially braid. A lot of pro's use scissors, a lot of people use line cutters and clippers, pliers are the worst, but really, this is by far the best. Let me just show you why. This is 65-pound test braid, which is usually the braid that gives people the most trouble. This pocket knife is probably eight years old. I've had it that long. One swipe, boom and cut. It does that with all fishing lines, no worries, cut it where you want. Twelve dollars at any kind of Bass Pro Shops, Wal-Mart, you name it. Swiss Army pocket knife, the best thing for cutting fishing line.