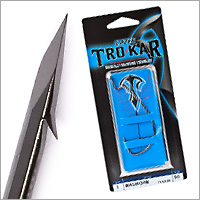 Trokar Hooks: My First Impressions
Published May 13, 2010 by
Kevin Scarselli
Early this year I purchased expensive Lazer Trokar hooks. Here are my first impressions…
They Are Piercingly Sharp
I've used the 6/0 and 8/0 MagWorm Trokar hooks the most so far, and these hooks are in a league of their own in terms of sharpness.
But for $10 for a 4pk and 3pk respectively, they are in their own league in terms of price too.
Trokar Hooks With Monster Tubes and Soft Swimbaits
With smaller hook sizes (up to around 5/0), it's fairly easy to find a SHARP hook. But finding a SHARP hook in the bigger sizes is near impossible.
Take for instance the size hooks you use with monster tube baits like the 7″ Giant Tora Tube. You can easily rig these monster tubes with a 12/0 or 10/0 hook. But 12/0 and 10/0 hooks just aren't sharp. They are such a thick gauge of steel it seems the hook point can't be sharpened to skin grabbing precision.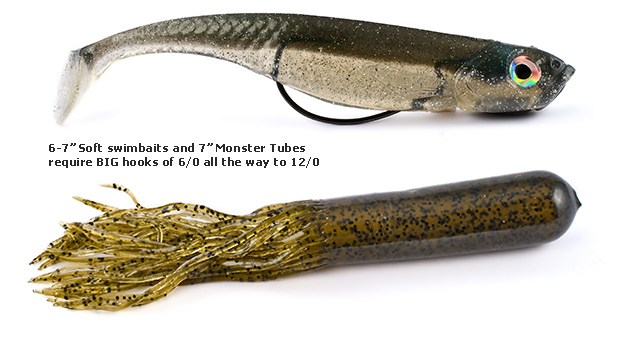 Big Hook Competition: Owner Beast / Picasso ProX Hook
In Part 4 our recent Definitive Guide To Bed Fishing, I recommended rigging a 7″ tube bait with either a 10/0 or 12/0 hook. More precisely, it meant a 10/0 Owner Beast or 12/0 Picasso ProX Hook.
Now the Owner Beast isn't an offset widegap. It has one of those "screw-in" locks at the eyelet. I'm not a fan of these screws, but I found the Owner Beast hook to be marginally sharper than the 12/0 Picasso hook so I put up with it.
The Owner Beast isn't really that sharp. I can take a new 10/0 Owner Beast out of the package and rake it across the skin on my finger without piercing the skin. The hook point will just slide back and forth over the skin with little pressure.
Same with the 12/0 Picasso ProX Hook. These are pretty dull hooks, and you're just going to flat out lose fish because of it.
And forget about taking a file to either. For some reason, they just don't file right and they won't get sharper (at least for me).
I have little confidence in either of these two hooks to get the job done to my liking.. I'll just put it that way.
Trokar: Sacrifice Size For Sharpness
So this spring, I tried something new. Instead of using the 10/0 Beast and 12/0 Picasso with my monster tubes, I dropped down to an 8/0 MagWorm Trokar Hook (the biggest hook they currently offer).
The 8/0 MagWorm Trokar is very sharp. Unlike the Beast and ProX hook, the hook point WILL snag skin if you rake it across the skin of your finger. It's increased sharpness over these two other brands cannot be mistaken.
I took some photos of the 8/0 MagWorm Trokar next to both a 10/0 Owner Beast and 12/0 Picasso ProX hook.
I wanted to get a good idea as to the difference in size between the three hooks.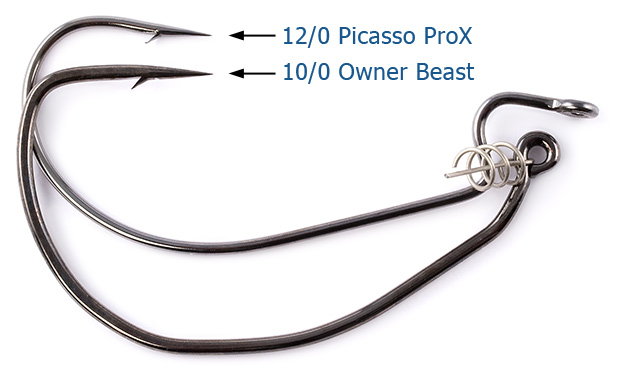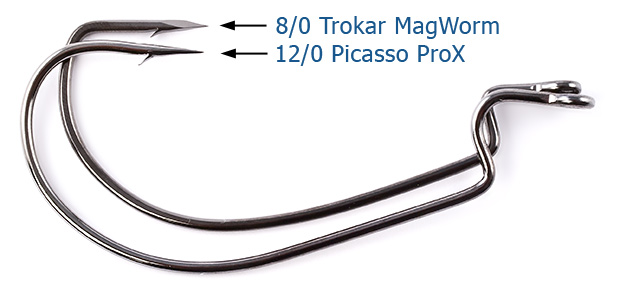 As you can see, there really isn't a significant difference in size, other than the slightly larger gape (distance between hook point and opposing hook shank).
So after such a close inspection, I opted to rig my monster tubes this spring with the 8/0 MagWorm Trokar hooks. It was a wise decision.
Verdict: Sharpness Over Size For Monster Tubes and Swimbaits
I'll probably be amending our Definitive Guide To Bed Fishing to recommend rigging 7-7.5″ tubes with the new 8/0 MagWorm Trokar Hook. I wish Trokar made a 10/0 or even a 12/0, but until then the 8/0 Trokar MagWorm is the more effective hook for big tubes for the significantly sharper hookpoint.
I've also been using the 6/0 Trokar MagWorm hook for some weedless swimbaits. Notably, the 3:16 Mission Fish. The Trokar in this size and instance is a slam dunk.
Still Experimenting With Smaller Trokar Hook Sizes
I've just gotten around to fishing Lazer Trokar's smaller hooks, like their drop shot, standard EWG and their flipping straight shank. While I want to just blurt out my initial impressions on these, I don't think it would be prudent at this early in testing. So I'll be posting another review for their smaller hooks as soon as I feel confident to make a proven judgment.
Last Words On My First Impressions
If you need a big hook of 6/0, 7/0 or 8/0 size, Lazer Trokar is my go to hook right now. It's so much sharper than the competition, the price of these hooks doesn't sting so bad anymore. I'll gladly pay for this kind of sharpness with a big hook. And looking at the other brands, making a big hook this sharp is a rather tough task.
Products Mentioned In This Review: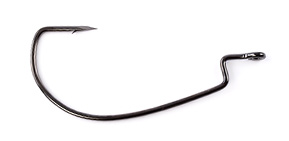 KEVIN'S BUYING TIPS:
This is THE hook to use for big tube baits and soft swimbaits. I've stopped using the 12/0 Picasso and 10/0 Owner Beast to switch to the 8/0 Trokar MagWorm, specifically for the sharpness.
Lazer Trokar MagWorm Hook
Available at these trusted retailers: