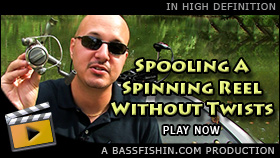 How To Spool A Spinning Reel
You would think that every box of fishing line would come with the directions and explanations we give you in this video, but the fact is, they don't. There is so much bad advice on TV and magazines on how to spool spinning reels correctly. It's not difficult, but there are a few concepts you need to know and understand. So let us share with you the proper method for spooling up a spinning reel without twists.
Having Difficulty Viewing the Videos?
A lot of people have problems with tangles and twists when they go to put new line on a spinning reel. I'm going to show you a method to help you prevent getting those tangles and twists and to get it right the first time. The concept here that you need to realize is, each spinning reel's bail spins in a certain direction, be it clockwise or counter-clockwise. The direction it spins depends on the brand.

Now the same is true with a spool of fishing line. The way the line comes off the reel depends on the manufacturer.. but the key concept is matching the rotation of the bail on your spinning reel, to the direction the line comes off the spool when the spool is lying flat on the floor.